←Return to filtered list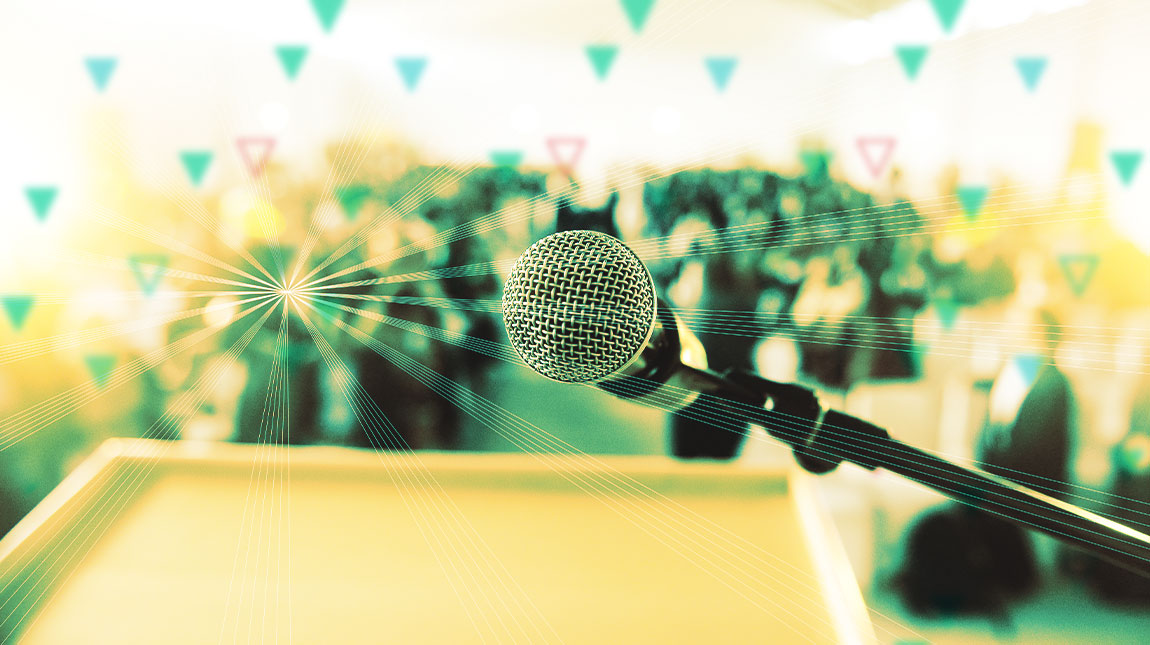 Listen Up! 10 Tips for Talks to Students
1. Keep it scriptural.
Explain and apply what the Bible is saying, not your own bright ideas about the topic. Usually you will want to spend more time covering fewer verses in a deeper way. It's better to have 5 verses people really understand and can apply than to use 20 verses that all relate to your topic. If you can use one section of scripture as your "launching pad" to address your topic, that is even better. 
2. Keep it moving.
Most speakers over explain their points. People are often smarter than we give them credit for. Make your point in the most succinct and powerful way possible, then move on to the next point. Ask yourself, "What's the most compact way I can say this? What's the most impactful way I can say it?" People will like you more if you assume they are smart. 
3. Keep it passionate.
It is a sin to bore people with the Bible. This may be the one chance a person gives to a large group meeting like this. Never approach any speech with a "business as usual" mindset. Always be prayed up and spiritually prepared to give your talk. There is so much more going on than communicating words. You must be filled with the Spirit. Fill up before you show up. Most people vastly underestimate the spiritual side of preparing for a message. Once you are teaching, give every ounce of your energy to the task. Richard Baxter once said, "I preached as never sure to preach again, and as a dying man to dying men." Don't fake passion, but let your emotions show, and don't shy away from the intensity of the biblical text. The Bible doesn't water itself down, so we shouldn't either. Bring the fire!
"Light yourself on fire with passion and people will come from miles to watch you burn."

John Wesley
4. Keep it practical.
Always answer the question, "So what?" and give people practical ways to apply the message. Most of the time, I try to word my main points as actions. The more specific your applications, the better. If possible, give a personal story of how you are trying to apply the principle. If people don't change something about the way they live after hearing your message, you have failed. Information without application leads to stagnation. Information with application leads to transformation. 
5. Keep your target in mind.
Speaking to your leadership team is different than teaching at a large group meeting. Try to think of the most difficult person in the room and how your talk might land with them. Personally, I try to make my talks "Frat boy friendly." I aim for the non-Christian frat guy in the crowd to understand what I am saying and connect with it or at least relate to me. I want my messages to apply to women and Christians for sure, but if we can connect with the bros, we can connect with anyone. 
6. Keep it personal.
Personal is most powerful. Share with vulnerability how you are seeking to apply these truths and your struggle with it. Phillips Brooks said "Preaching is truth through personality." People need to connect with you before they will connect with what you are trying to teach. Personal stories and examples are the best way for a speaker to connect with people. 
7. Keep them on their toes.
Try to surprise and shock people in appropriate ways when possible. Say things that make them think, "Did he just say that?" Usually this is done through humor.  Try to make them laugh or react in some way every 2 minutes. Mix up the type of communicating you are doing, and mix in different elements every 5-10 minutes. Using short but interesting stories from your own life, from scripture, from the lives of people you know, or from church history almost always make ears perk up. Most people take too long to explain a story though. Please land the plane! Change up your speed, cadence, and the intensity of your voice to fit the point you are currently making. Use videos, images, testimonies, short discussion, and word pictures when possible. Remember, it's a sin to bore people when teaching the Bible. 
8. Keep it short.
No one has ever complained about a short talk. If you have a 30 minute talk to give, prepare 20-25 minutes worth of content. Say less, but say it more impactfully. This is something I struggle with. Whenever I have too much content, it adds so much stress as I am trying to watch the clock and figure out what I am going to cut even as I am speaking. Having less planned also helps you be open to follow when the Spirit leads you to "go off" on something unplanned. Some of the most powerful statements God has used in my ministry are things God gave me to say spontaneously in the moment. Don't be afraid to let the Spirit lead you and take a risk. 
9. Keep working on it.
Always send your manuscript to a mentor a week in advance of giving your talk. This will, without fail, make your message better. After the talk, ask other staff or leaders for feedback the same day if possible. There will always be something you could improve on. The more experience you get and the more coaching you receive, the better you will get over time.
10. Keep growing as a leader.
If you get dry spiritually, you won't consistently have "fresh bread" to give the people you are leading. Become an expert on any topic you are speaking on. Spend tons of time studying and meditating on relevant scriptures, reading multiple books and commentaries, and gathering lots of content for whatever topic you are addressing. Listening to other people's messages on the same passage or topic can be very helpful also. You should have a backlog of massive amounts of potential content for your message. If you are going to spend 20 hours preparing a message, 10 of those hours should be spent on research.
"

If it's not in you, it can't come out of you." Zig Ziglar
Resources for Growing Your Communication Skills