←Return to filtered list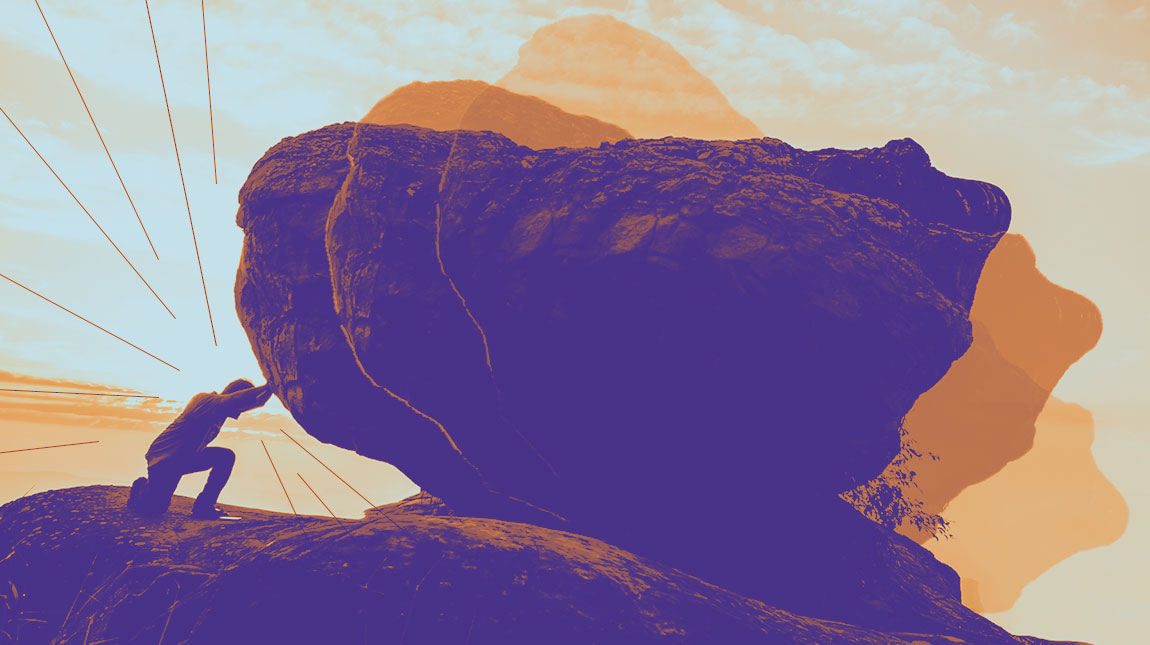 We know you're tired. And you should be.
This time of year can be discouraging after turning over rock after rock all fall sometimes with little to show for it.
This fall, for example, I texted one freshman six times and got no response. On the seventh text he responded and we got lunch.
I shared the gospel with him and I asked him how college has been for him spiritually. He said, "I really feel like God is pursuing me since I've been in college. I mean, you've kept on texting me and I really feel like that was God pursuing me."
In college ministry we're constantly turning over rocks to see where God is at work.
I love Winston Churchill's "encouragement":
"Success consists of going from failure to failure without loss of enthusiasm."
College ministry is hard emotionally. There's something incredibly humbling about having a too-cool-for-school 18 year old freshman smugly shut the door in your face as you try to tell them how they can know the God of all creation.
On a deeper level, working on the cutting edge of culture can be exhausting.
For most Christians, dealing with complexities such as LGBTQ issues, racial inequality, suicide, Trump, depression, and mental health are distant hypotheticals to yell about on Facebook.
For college ministers, you interact with students on these issues as part of your daily job.
Paul Tripp summarizes well the difficulty of ministry:
"There are few things that will reveal to you the full range of your sin, immaturity, weakness, and failure like ministry will. There are few things that will expose your weaknesses to others as consistently as ministry does. There are few endeavors that will put you under public expectation and scrutiny like ministry does. There are few things that are as personally humbling as ministry is. There are few endeavors that have the power to produce in you such deep feelings of inadequacy as ministry does. There are few things that can be such a vat of self-doubt as ministry is."
Here are a few things that help me keep going.
You're tired. And you should be.
You are doing ministry in one of the most difficult environments, on the cutting edge of culture–the college campus.
The reason there's not many people up on campus sharing the gospel in Greek houses, in the dorms, or on practice fields is because it's hard!
A recent survey of a college ministry showed that:
80% of team leaders would say "I feel overwhelmed by my job"
75% of team leaders expressed feeling emotionally drained from their work
The majority of team leaders have seriously thought about quitting their job
Hopefully you find this oddly encouraging. It reminds me that I'm exhausted because what we do is hard. You're not alone. We all feel it.
Your job is complex. But that's a good thing.
You want some job complexity–it's what makes your job fun.
Meaningful work is always complex. You're not screwing three screws into the back of a computer for 12 hours a day (as I did one summer in college).
In his book Outliers, Malcolm Gladwell says meaningful work has three distinct qualities:
Complexity
Autonomy
A clear relationship between effort and reward
It is important for you (and your team) to embrace the complexity and also have the freedom to innovate and really lead, but the last one is key.
If all you and your team can see is the complexity and your ministry's shortcomings, that is when discouragement sets in.
Your team needs to see that you are making real progress toward a tangible goal. Even if that progress was learning four ways of how NOT to reach freshmen, that is success!
You stepped out in faith and are learning. Which leads to number three…
Celebrate!
Last week my regional director sent to our team leaders an email that highlighted what God was doing through the Central Arkansas team to launch a new campus and raise up four staff from that campus.
I emailed their team leader about how encouraging that was. His reply:
"I had two thoughts when I read this. One, I didn't know some of that stuff, and two, I need to learn to celebrate more!"
In the midst of the craziness of fall it's easy to let your less-than-stellar weekly meeting or flaky leaders hide the fact that God is using you in significant ways to change lives for eternity.
Your team is intimately acquainted with all the things that are going wrong in your ministry. We need to stop and raise our team's eyes to all that God has done.
Bill Hybels has some wise words on celebration:
"How do you inspire people to stay on the journey from here to there? Refill their vision bucket. Everyone's vision bucket leaks. You have to celebrate every mile-marker you possibly can on the way to the destination."
You can read more on this topic in my article, Celebrating.
It's good to be reminded that it's worth it.
We delicately talk through difficult cultural issues with students. We boldly proclaim the gospel and often endure contempt and rejection. Many of us raise support and trust God to provide 100 percent of our livelihood.
Why?
In Spanish, if something is "worth it" you say it is "vale la pena" which literally means "worth the pain."
It is worth the hardships so that hundreds and thousands of future world changers can encounter Jesus.
"For our light and momentary troubles are achieving for us an eternal glory that far outweighs them all." 1 Corinthians 4:17
Faith is believing that in the midst of the hardness of ministry, it's worth it.
Christ is worthy of our lives. And we know that this good news WILL be proclaimed to all nations. And we get to be a part of it.
Ministry is hard, but es vale la pena.