←Return to filtered list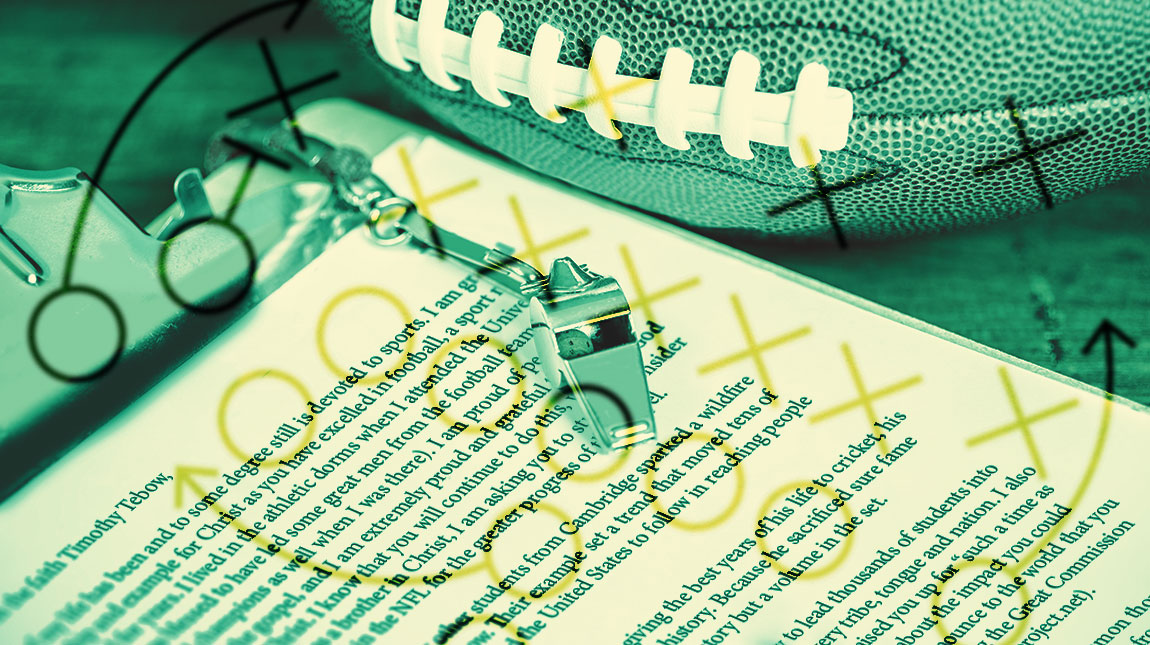 My letter to Tim Tebow
I love stories of sacrifice. I'm sure it's because my salvation is born out of the ultimate story of sacrifice.
Whenever I hear a story of someone giving up something important for the greater good or bigger vision, I cheer.
Out of the many stories of sacrifice in missions history, one of my favorites is C.T. Studd. He gave up fame in athletics to minister in unreached places that had zero access to the gospel.
That story, and the lack of a modern day Studd, is what drove me to write a letter to Tim Tebow before he was drafted to the National Football League. In this letter, I asked him to consider quitting professional football for the sake of missions.
I quickly found out there weren't a lot of people willing to help me with this.
I worked several contacts and got some leads, but I would eventually get stiff-armed by Christians who believed my challenge was "presumptuous" and I had no right to "tell him what to do."
I'm not sure if any of these contacts actually passed the letter along. I did learn, however, that my job as a minister and mobilizer in a gospel-accessible place is crucial.
I believe the best thing a minister of Christ can do is challenge their people to give up "good" opportunities for "great" ones.
There are very few people who, like Francis Xavier, will challenge the best and brightest to, "give up their small ambitions and come eastward to preach the gospel of Christ."
If the good is the enemy of the great, I believe the best thing a minister of Christ can do is challenge their people to give up "good" opportunities for "great" ones.
If we take an honest view of the world, the greatest opportunities and biggest need will always be in places where the gospel has yet to advance in unreached, unengaged people groups.
I know there are spiritual needs in America. However, there are over 6,000 groups of people in the world who have almost zero chance of hearing the gospel.
Because of the Biblical mandates to reach the world, and the current state of the world, I will continue to challenge the best and brightest believers to align their skills and giftings with what God is doing to reach the nations, even if it means skipping out on the NFL draft.
As you read the letter be thinking about your answers to the following questions:
How would you have responded if you were one of the contacts who received that letter?
Is it okay for a minister to challenge their disciples to make career-changing decisions?
Right now on your campus there are talented men and women who will be faced with good and great opportunities. What if we challenge them to give up promising careers, or use them for the sake of the unreached?
Here's the letter I tried to get to Tebow. Hopefully it will challenge you to think about how your life fits in with the Great Commission to reach all peoples and how you can help others live out Christ's command.
To my brother in the faith Timothy Tebow,
A great deal of my life has been and to some degree still is devoted to sports. I am grateful for your leadership and example for Christ as you have excelled in football, a sport my father has coached for years. I lived in the athletic dorms when I attended the University of Oklahoma and was blessed to have led some great men from the football team in Bible studies (national champions as well when I was there). I'm proud of people who use athletics to advance the gospel, and I am extremely proud and grateful that you are an outspoken follower of Christ. I know that you will continue to do this, wherever God directs you. With that being said, as a brother in Christ, I am asking you to strongly consider laying down your plans to play in the NFL for the greater progress of the gospel.
In the late 1800's C.T. Studd and six other students from Cambridge sparked a wildfire of missionary zeal that echoes even now. Their example set a trend that moved tens of thousands of students from England and the United States to follow in reaching people without access to the gospel.  
If C.T. Studd had decided to go overseas after giving the best years of his life to cricket, his name would not even be a footnote in mission's history. Because he sacrificed sure fame and fortune he's not just a footnote in mission's history but a volume in the set.  
I believe you have the platform, zeal, passion, and ability to lead thousands of students into finishing the Great Commission of taking the gospel to every tribe, tongue and nation. Now is the time. I believe, like Esther, God has raised you up for "such a time as this." I know this sounds crazy, but I am begging you to think about the impact you could have if you would simply call a press conference and publicly announce to the world that you are forsaking a career in the NFL and devoting your life to finishing the Great Commission by taking the gospel to an unreached people group (see www.joshuaproject.net).  
What do you have to gain by going to the NFL? I will answer some common thoughts about why you might decide to go to the NFL. I have heard most of these from students considering going into business, medicine, research, or some other profession.  
"This is what I was gifted for."  
Rarely does a person say they were "gifted to go overseas." I used to be a part of a ministry that traveled and shared about God's heart for the world and His desire to see all people groups come to know Him. After we spoke to a group in Reno, Nevada a very talented businessman continued to ask questions and was fascinated by our stories and what we gave up to talk to people about missions. There were four people on our team and we had all given up better jobs to share with others the importance of being involved with missions. I decided not to use a degree in business and computers to go into ministry, Carrie had left a teaching job in one of the best districts in Iowa (over 100 people applied for her job when she left), my wife Jennifer laid down her Doctorate in Pharmacy, and Mark quit a pharmaceutical sales job where he was one of the top five salesmen in the country. By all accounts we were all gifted for something else. Gladys Aylward was a missionary to China who said, "I wasn't God's first choice for what I've done for China…I don't know who it was…It must have been a man…a well-educated man. I don't know what happened. Perhaps he died. Perhaps he wasn't willing…and God looked down…and saw Gladys Aylward…and God said, 'Well, she's willing.'" Talents should never be confused for Spiritual Gifts. And skills should never be an indicator of calling.
If you give up your NFL career and go overseas as a missionary you will tell American Christians that our talents should be used to advance the gospel, not used as an excuse to live comfortably.
"It has always been my dream to be a quarterback in the NFL."
You are not unique in this dream. Every little boy who picks up a bat, bounces a ball, or makes a tackle wishes they could do that professionally. As most grow up and realize they are not talented enough for professional athletics they dream of other endeavors. I've had many students tell me, "It's always been my dream to be a doctor, lawyer, or fill-in-the-blank," but very rarely do students say "I've always wanted to be a missionary." You know more than anyone else that "the harvest is plenty but the laborers are few." Jesus tells the disciples that "there is no one who has left house or brothers or sisters or mother or father or children or farms, for My sake and for the gospel's sake, but that he will receive a hundred times as much now in the present age…and in the age to come, eternal life." There are several Christian quarterbacks in the NFL (and more are coming). According to joshuaproject.net there are over 6,000 people groups without the gospel. The NFL doesn't need another Christian, the Uyghur people of China do.
If you give up your NFL career and go overseas as a missionary you will tell American Christians that our dreams are worth laying down so that our lives can be used to advance the gospel to the most unreached places in the world.
"If I stay here and play in the NFL I will build a bigger platform to speak from."
No one in sports has a bigger platform than the greatest college football player to ever play the game on the verge of the NFL Draft (I'm a huge Sooner fan, but there's no doubt about it, you were the greatest). There is nothing more you can do to gain a wider audience. The best-case scenario is that you become a successful NFL QB and get one write up per year on FOX about your faith.   Did you see Colt McCoy profess his trust in God after the national championship game? I sure did and was proud of him (that's hard coming from a Sooner fan). Did you see it mentioned since (by anyone who isn't a believer)? I have not, and don't expect it to be. The focus is on his arm, not his heart. The NCAA is banning personal messages from eye-blacks for next year in response to how you brought attention to the gospel. Your faith will be marginalized just like every other Christian in the league. John Kitna, Trent Dilfer, Kurt Warner, and Aaron Kampman (among others) are all great men of God who represent the Kingdom very well but their voices are often silenced in the public square. Not intentionally but because of a lack of interest. Peter King, a Sports Illustrated writer was quoted in Christianity Today saying, "To be honest with you, people like me just totally ignore that, because we're not writing about religion," King said. "We're not writing about somebody's Christianity. Once the questions veer off into game-oriented things, that's when I start taking notes."  
The worst-case scenario is that either because of injury or fate you are a career backup and after an eventless career quietly go overseas to do missions work as a washed-up "has been." People will simply say "no wonder he's going overseas, he couldn't make it in the NFL."
If you give up your NFL career and go overseas now you will be able to do it at a time that most shocks America and tells American Christians (who currently spend more money on sports than missions) that missions is more important than any game.
"I will have the ability to make millions and give a lot to Christian causes."  
God doesn't need your help. He owns the cattle on a thousand hills (Psalm 50:10). He is in no need of rich people giving to His causes. In fact I would warn that whenever people come into money, their dependence on God fades. Remember Solomon? His wealth eventually led to the demise of the kingdom of Israel. Remember the "Rich Ruler" in Luke 18:18-30? Jesus said it's easier for a camel to walk through the eye of a needle than for a rich person to enter the kingdom. God has never been dependent on earthly wealth. With your connections, you could raise enough support in a matter of hours to go overseas with any mission's agency.  
If you give up your NFL career and go overseas now you will show American Christians the importance of abandoning the world's standard of success and materialism and challenge them to embrace God's call to give your life, not money.
"I plan to do missions work later in life, after I see what happens in the NFL."  
I truly hope this isn't a thought. First we are commanded not to make plans for tomorrow. That is not guaranteed. Second, God does not want your "leftovers." This is a common theme among American Christians. "I'll serve the Lord later in life." Today is all we have been promised from the Lord.  Approximately 80,000 people will die today with no knowledge of Christ. The need among the unreached peoples in the world is urgent and it should be treated as such.  
If you give up your NFL career and go overseas now you will show American Christians that obedience to Christ's commands in Matthew 28:18-20; Mark 16:15; Luke 24:47; John 20:21; and Acts 1:8 are to be obeyed today, and not just read.  
I believe that you will do what God lays on your heart. I want you to know that I will be praying for your influence over this generation of American Christians, no matter what you decide to do. And I am convinced from all accounts of your life and character that you have and will continue to make an impact on this generation for God's glory. But, for their sake, and for the sake of the gospel I pray that you would, in the words of Francis Xavier, a 16th century missionary to Japan, "give up your small ambitions and come East to proclaim the glorious gospel of Christ."
For the sake of His Name among the nations,
Brian Zunigha