←Return to filtered list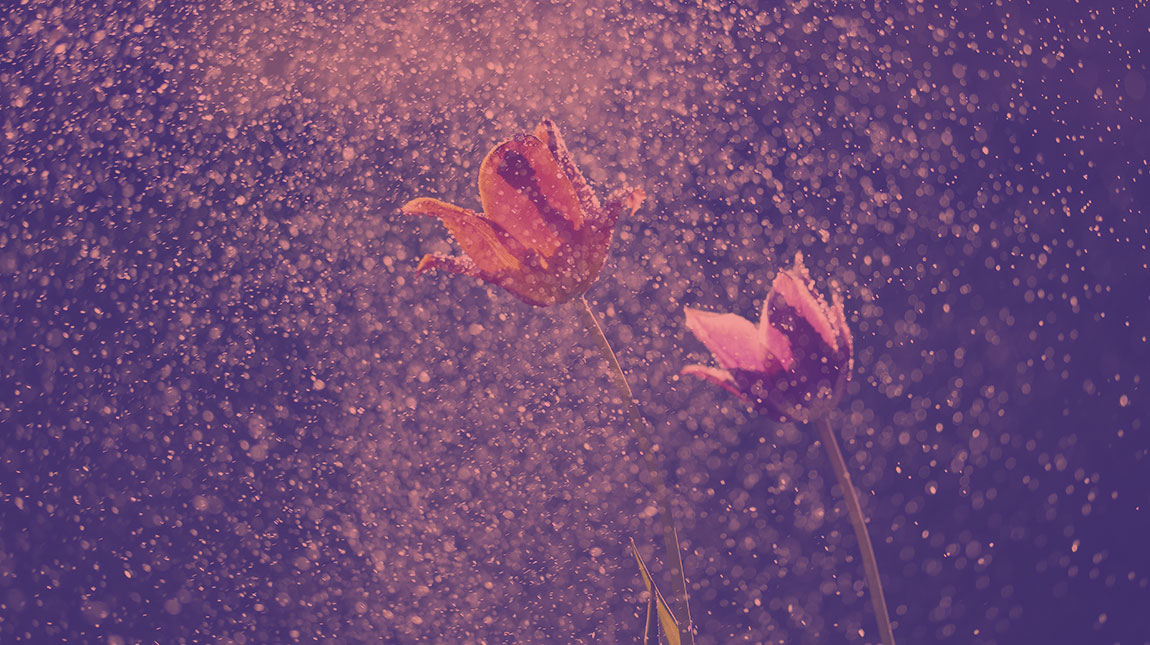 Summer Showers Bring Fall Flowers
My mom is a gardener, and when I was a kid she always taught me about the different plants in her garden–what they were called, what was indigenous to the area, and when things needed to be planted.
Sadly, I don't remember much of what she taught me, but I definitely gained an appreciation for the springtime greenery and florals.
I love the pops of colors as the daffodils and tulips bloom on campus, and I love stopping to "smell the flowers" mid-walk because the scent of almond blossoms is filling the air.
Especially after killing my first two succulents, I've come to really appreciate my mom's love of plants and her green thumb!
Maybe you're like me and can't even keep an "easy to please" plant alive, but I'm sure you've heard the horticultural phrase, "April showers bring May flowers."
It's a cute saying, but there's also truth to it.
We have to pull out our rain boots and jackets for the month of April, but this wet weather can be endured because of what's right around the corner.
We need the rain because it produces the lush spring and summer we all love.
The same is true for our ministries. Let's tweak the phrase a bit though: "summer showers bring fall flowers."
The investments we make during our summer months–the "rain" we give to our ministries–can significantly impact the fruitfulness of our fall semesters.
I think sometimes we're tempted to see the summer as a time to finally rest.
We've rounded third base in the spring, and when summer arrives we slide safely into home plate, breathing easy for a while before we step back up to the plate again in the fall.
But I really believe how we invest our summer months can have a huge impact on our fall and spring semesters.
If we don't "water the flowers" in the summer, we might find ourselves with a dry and wilting crop in the fall.
So as we begin preparing for summer, what can we do to make the best use of the time?
Consider nourishing your ministry with these "summer showers."
Water Your Own Garden
I went to an Andy Stanley and Craig Groeschel Catalyst Conference a few years ago (highly recommend!), and one of my biggest takeaways was on creating a culture of feedback.
I had asked for feedback from my boss before, just here and there, but never really had the motivation or conviction to continually and holistically ask for feedback.
I would guess that's true for a lot of us.
We value personal feedback and know we need it, but don't really go after it as often as we should. I realized, though, that by not asking for feedback, I'm the one missing out.
Everyone's thinking something about me, and people are thinking something about our ministries, so why not give them the voice to tell me so hopefully I can improve because of their feedback?
The past two summers I've asked a leader, a few of my peers and several students to evaluate me and our ministry (usually in those few weeks in between the spring semester and the start of our summer project when I have more down time).
I think this is a huge way to invest in yourself and invest in your ministry.
Your curiosity to learn and get feedback will make your students feel valued, help you find your blind spots, and create an environment of teachability and continuous improvement.
Saturate the Soil at Your Summer Project
Spend LOTS of time pouring into the lives of the students at your summer project.
You might be thinking…well duh. That's too obvious. Of course I'm going to spend time with the students at our summer project.
But I'm not just saying time, I'm saying LOTS of time. Drench those relationships!
My staff team has done a lot of evaluating this year as our six-year-old ministry has grown to a student leader size of 100, and a winter conference size of about 450.
With this much growth, we've struggled to keep a small ministry feel. How can we stay deeply connected with our students when our student to staff ratio continues to widen?
How can we keep the trust points high when they don't really know the staff? How can we parent these young believers well when there's so many of them and so few of us?
As our ministries grow, it gets harder and harder to keep the same level of connection within our movements.
One of the best things we can do to disciple our students and foster trust with them is to take advantage of the time with them at our summer project.
This is the time to build connections with your students, freely and generously watering those relationships.
Don't just have the one to one with your key student, stay and play basketball with him after. Don't ride to the events with the other staff, carpool with your students.
If you're single and living with other staff, don't get stuck in your room – go eat your meals in your students' condos.
Make a goal for yourself of how many one to ones you want to have a week with students (I would suggest at least two a day).
Even if you have a smaller campus ministry, all the better for deeply investing!
I don't think there's such a thing as giving too much time to your faithful people.
Keep Watering Students NOT at Your Summer Project
Every summer I have good intentions of staying connected with the students I've built a relationship with on campus who are not coming to our summer project.
This is easier said than done though.
We get busy (especially if we're at a summer project investing deeply in students there) and it takes effort to make that extra phone call at the end of a busy day.
Last summer was the first time I found some success investing in students not at my summer project, and it led to some really great relationships throughout the rest of the year.
I had three key freshman girls who were excited about growing, so we decided to do a Google Chat Bible study once a week.
I gave them some of the same materials we were doing at our summer project, so I didn't have extra work to do, and had them make a commitment to 3-4 hours a week of work.
They had a daily quiet time book, a Bible study, a Christian book to read, and we met once a week on Google Hangout for our Bible study.
This was totally worth the time! Two of the girls accepted Christ during the summer, and all three remained close relationships in the fall.
If you have key students who didn't come to the summer project, why not try something similar?
It keeps them growing with you and allows the transition back in the fall to be much smoother.
If you can't make this work this summer, set some reminders on your phone to text your students.
Go ahead and schedule an hour in your week over the summer to make phone calls or send texts.
Send them your summer project books so you know what they're reading and can ask them what they're learning from it.
Set them up with a graduate of your ministry who lives in their hometown who is willing to pour them into them during the summer.
Even small investments during your summer can pay huge dividends for your upcoming ministry year.
Here's to your "summer showers" bringing "fall flowers!"